LUBBERS FARMS uses John Deere equipment, Kenworth and Peterbilt trucks as the tools of our trade. We are currently running JD R Series 4 WD tractors. We will also be running for the planting season JD 1840 60' NO-TILL airseeders and JD MaxEmerge 24-30" Series 5 planters, including the new JD ExactEmerge High Speed planter. Our air seeders have high capacity tow behind tanks for efficient one pass seeding/fertilizing. Our planters feature the newest of technologies and attachments for effectively no tilling in high residue conditions. We proudly use JD AUTO STEER in ALL of our field operations.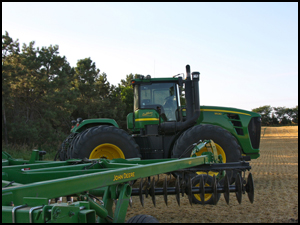 New JD R4038 sprayers with 120 foot booms and auto steer guidance that are run by our in home applicators that will live up to our high standards. When weather is an issue we have and Ag aviation service on call at all times that have the ability to run multiple planes, guaranteeing the job to be done right and on time regardless of weather and field conditions. A fertilizer crew with 5 or more floaters all ran by professional applicators, using GPS guidance to eliminate skips and over lapses, maximizing OUR and YOUR investment and time. A fleet of dedicated tender trucks for support from our own fertilizer facilities to keep the process running at maximum capacity. We have a fleet of semi's which haul to far away locations bringing fertilizer to the crews. We are always on site and in the field to keep everything coordinated and running smoothly.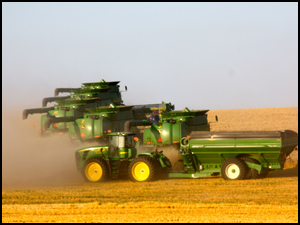 New JD S670 combines are used. Our harvest crew run all JD harvesting equipment to ensure a timely harvest. All grain carts have electronic scales with ALL loads being documented; yield monitoring and mapping are also being utilized. Rear wheel assist helps us out in those sticky situations that can occasionally happen during harvest. A full line of support equipment, tractors, grain carts, semis, and service trucks makes the job go as smoothly as possible. Our equipment is all fully loaded and capable of starting and finishing any job.